News & Events
Lullaby Mom Invited to NYC Carnegie Hall!

we're front page news!
The success and impact of our Lullaby Project has exceeded our wildest expectations.  Last month, one of our mothers was honored to be invited to perform her original song at New York City's Carnegie Hall, in June.  And ED, Laura Barron, will join her for a professional development conference with other Lullaby Project Directors from around the world.  And, in exciting local news, we also made the FRONT PAGE of the Vancouver Sun, last week: Soothing Mother and babies Hearts with Lullabies
street beats was a smashing success!

CBC thinks so too!
STREET BEATS found object instrument band did a fabulous job collaborating with Music on Main's All-Star Band, in their November performances for the ISCM festival.  And we are proud to announce that their artistry has been featured in a CBC North by Northwest interview, as well as a festival documentary film that you can enjoy here (our parts are from :50-:57 & 15:30-16:04).  

new moms find their voice

lullabies from the heart
As a privileged partner of NYC's Carnegie Hall, Instruments of Change launched our first Lullaby Project, this summer, working with new mothers, through the Vancouver YWCA's Cause We Care House. And now, these musical women will perform their original lullabies in a special sharing celebration, on Mon. Oct. 16th, at Tom Lee Music, downtown, at 7 pm. Also, thanks to Hipposonic Studios' donated recording space, links to these new mothers' songs will be available on our website and on Carnegie Hall's Soundcloud page, in late October. So, stay tuned!
right up your alley
come play to the beat
of your own drum
Thanks to a generous VIVA Vancouver City grant, our Street Beats interactive found object instrument wall has been animating the corner of Arbutus & 6th, along the Arbutus Greenway, since July, for people of all ages to play to the beat of their own drum. So, please stop by before this colorful creation finds its new home at the elementary school where it will be donated this November! Congratulations to musician and builder Paul Snider, as well as art director, Juliana Bedoya, who helped Executive Director, Laura Barron design this playful space.
A MESSAGE OF HOPE

stories set us free
Women Rock's treasured participant, Taninli Wright, (left) completed the first phase of her powerful personal and creative journey, this May, as she shared three public performances of the one-woman theatre piece that we collaboratively wrote and produced with her.  This moving work documents the remarkable Messenger of Hope solo 1,600 k walk she took across BC, in 1997, to advocate for improved education for First Nations youth. And now, we are co-developing this storytelling piece into a fully-staged theatrical work for 2018 release. Her story of rebirth, resilience and courage promises to inspire all who believe they can make a difference.
I OF C RETURNS TO INDIA

YOUTH SUPERPOWERS SAVE THE DAY
After engaging with 60 Grade 3-6 students in Vancouver, Something Collective took our youth arts program, Repurpose Our Purpose, to India. At home and abroad, we asked kids to express their feelings about their own unique value and purpose (or, in other words, their "superpowers"), through story and song. At the same time, these children harnessed the value of everyday objects and trash by repurposing these materials to make puppets and instruments for a final original musical theatre piece. And finally, we introduced a variety of interdisciplinary collaborative activities designed to cultivate an appreciation for the power of a collective sum that is greater than its parts. Their colorfully imaginative creations can be enjoyed on the following blog link.
BEST BENEFIT YET!

YOU HELPED US RAISE $80 k THIS YEAR!
On October 13th, 300 of you poured into the Imperial to enjoy an evening of music, dance and art to celebrate our communty programs. And thanks toyour tremendous support, we can proudly report that the event raised nearly $80,000! This will help sustain Women Rock, Stick Together, and the Binners Symphony while also enabling us to explore new opportunities to make theatre with orphans in India and women in the Downtown Eastside. A heartfelt thanks to all who came out for the event!
WE HAVE OUR FINGER ON THE PULSe

all-city street beats debut show was a huge hit!
The 2016 phase of our Binners Symphony project concluded with 2 very satisfying and successful shows, on Nov. 6th, at Music on Main's Modulus Festival, shared with a packed house at the Roundhouse. 25 enthusiastic community members, from every corner of Vancouver, performed on found object drums, curated by the Binners Project, to create a fabulous rhythmic composition that truly captured the pulse of our diverse and vibrant city. Check out a video of their performance here:
https://youtu.be/hlKUgpZarrA Please stay tuned for updates on the 2017 phase of this continuing project.

FREE STREET BEATS DRUMMING WORKSHOP FOR ALL
Connect with community and play found object instruments (think STOMP!) in this creative percussion band. Instruments of Change will lead 5 FREE workshops for people of all musical abilities to make music in a fun and uninhibited way. Found Object instrumentsare provided by the BINNERS PROJECT. And there are THREE ways to participate, REGISTER ONLINE AT EITHER:

Trout Lake Community Centre for Tuesdays, Oct 4,11,18, 4-5:30 pm: http://www.active.com/vancouver-bc/music/classes/street-beats-2016?cmp=39-35-etrigg
Sunset Community Centre for Wednesdays, Oct. 5,12,19, 6-7:30 pm: https://ca.apm.activecommunities.com/vancouver/Activity_Search/street-beats/75028
OR
Roundhouse Community Centre for Saturdays, Oct. 1,15,22, 2-3:30 pm: https://ca.apm.activecommunities.com/vancouver/Activity_Search/street-beats/71922
ALL REGISTRANTS will also be invited to participate in 2 rehearsals:
Sun, Oct. 23, & Sat. Nov. 5th, as well as MUSIC ON MAIN'S final performance at the MODULUS FESTIVAL
Sun. Nov. 6th at the Roundhouse
save the date: oct 13th at the imperial

join us for our street art-themed benefit
It's that time again, to celebrate all of the art that we've been creating with community. Our semi-annual benefit event will take place at the Imperial, on Oct. 13th, at 7 pm. This year's theme is Street Art (in the spirit of art that is accessible to all), and we will feature Bugaloo hip hop dancers, music by famed local rapper, Prevail and Leisure Principle, graffiti artists, the Carnival Band, STOMP!-like percussion, food cart culinary art and more. Tickets can be purchased here: http://instrumentsofchange.brownpapertickets.com
BYCS Youth stick together

OUR MARIMBA STUDENTS ARE NOW RECORDING STARS!
Our Stick Together youth participants at the Burnaby Youth Correctional Services have really put their creative enerigies together to make these amazing marimba recordings of Bob Marley's Stir It Up, Frankie Valens' La Bamba, and Outkast's Hey Ya. We're very proud of all they acheived together. And you can listen here:
http://instrumentsofchange.org/gallery.html
"you Gotta work with what you've got"
duke ellington


IOFC PUTS THE DUKE'S WISDOM IN PLAY
Our Binners Symphony initiative has lots of brains, bodies, and shopping cart wheels in motion, as we are building a strong foundation for our two-year large-scale community "trash" percussion ensemble project. So far, we have engaged with a few keen, diligent and enthusiastic men from the Binners Project, an advocacy organization for our city's most valuable recyclers, who we are hiring to curate our found object instruments. These will ultimately be used for a STOMP-like performance designed to include 60-100 community members in a rehearsal and performance process that will take place in 2017.

We have also secured several important facility partners to host our community drumming and instrument-building workshops, as well as to provide instrument storage and rehearsal space. These include the UBC Learning Exchange in the Downtown Eastside, and the Roundhouse Community Centre, who will additionally connect us to 3 more community centres strategically located in diverse Vancouver neighborhoods to ensure inclusive community participation. Finally, we hosted our first "trash" instrument petting zoo at the UBC Learning Exchange musical event, One Mo' Town, on February 18th. Here, a dozen community members got their first chance to experiment with the sonic possibilities of everything from milk jug rattles filled with rice, and IKEA shoe racks as washboard instruments, to rakes and plastic sled drums.
Iofc builds confidence and marimbas
stick together youth make their own instruments
Following up on our successful summer pilot marimba program at the Burnaby Youth Custody Services, we have arranged for the BYCC youth to build their own instruments in prepartion for our continued programming there. To make this possible, we hired Victoria-based marimba building master, Rick Palmer to train Bobby Rihal, the shop teacher at Fraser Secondary (the resident high school at BYCC), with the skills he needed to lead the students in their own building process. Consequently, they have completed a beautiful soprano and baritone marimba, which will complement a tenor instrument that we have purchased ourselves, in order for them to have a full fleet of marimbas to use in our program. And now, students will get the satisfaction of making music with thier own creations, when our program resumes there, this April (with partner support from the non-profit, ArtStarts). Such comprehensive involvement promises to give our youth participants a great sense of authorship and investment in Stick Together, which we have developed to foster a heightened sense of pride and belonging for the youth who become part of this collaborative marimba ensemble.
we ARE on our way to colombia!

to follow the global journey of a t-shirt
Our latest Something Collective project, Through the Eye of a Needle, offers youth an insightful look into the "fast fashion" industry, investigating its impact on their self-esteem, the economy, and their environment. I of C Director, Laura Barron, and visual artist, Juliana Bedoya will facilitate a creative exchange between students in West Vancouver and Bogata, Colombia, through the creation of original theatre and music performances that will use costumes and accessories which the students fabricate from natural and found (trash) materials. With partnering support from the Vancouver Biennale's Big Ideas program, 90 Grade 6/7 students at West Vancouver's Ecole Pauline Johnson, as well as students from Bogata's Liceo Boston School, along with their outreach students in Tuna Alta, will all get to participate in this important artistic inquiry. You can follow our project's progress here: somethingcollective.ca
everybody just wants to be free!

Vancouver kids sing together in voice to voice
Check out our new music video on YouTube:https://youtu.be/opMiBRGffVM. It's the result of this year's Voice to Voice project which brought together over 100, Grade 4-7 students, from 4 diverse Lower Mainland schools, in an incredibly fun and meaningful songwriting project about Freedom. Exploring values and preferences, in relation to this year's Canadian federal election, we asked these students what they would put in the Charter of Rights and Freedoms if they were to be Prime Minister. Out of these conversations, we collectively wrote a song which resulted in this very appropriate chorus: "If kids ruled the world, imagine how free we would be". These students' imaginative rap lyrics ranged from the right: "to have a waterslide inside every house", "to have free WiFi everywhere", "to plant trees and breathe clean air", and "to wear whatever traditional clothes you wish".
introducing the carnegie sensations!

Women Rock is still going strong
Eight of our lively, enthusiastic, and colorful Women Rock participants, at the Carnegie Centre, enjoyed a feature performance as part of the Heart of the City Festival on November 2nd. We are proud and pleased that this annual Downtown Eastside celebration of art and culture in that neighborhood, invited members of our women's music program to perform at their festival for the second year in a row. And now, their year-end show will be next Wednesday night, December 16th, at 7:30 pm, at the Carnegie Centre (401 Main St.). It is free and open to the public. So please come support these creative women as they present their own original songs, as well as covers of Bette Midler, the Ramones, and more.
I of C and binners unite!

making music from a monster of trash again
In our most ambitious endeavor to date, Instruments of Change has begun developing plans for the Binners Symphony, a 2-year initiative, in partnership with Music on Main, and local composer, James Maxwell. This project will bring our city's most valuable and visible recyclers, the binners community, together with professional musicians, and other members of the general public, in a large-scale, found-object, community music percussion piece, to be premiered at the 2017 World New Music Days, during the annual International Society for Contempory Music Conference that Vancouver will host in November of that year. We were fortunate enough to meet with members of the binners community and the directors of their advocacy organization, the Binners Project, on Thursday, September 10th, at their annual Coffee Cup Revolution event in Victory Square. Here, binners had the opportunity to collect this usually wasted product (75% of recyclable coffee cups are thrown in garbage bins) for a 5 cent return rate. Over 44,000 cups were saved from waste in 2014. And in a similarly creative effort, we hope to hire the binners to collect a host of interesting found objects that we can use as instruments for this innovative, community-created and performed musical composition.
musicians stick together!

our Youth marimba program launched at the burnaby youth custody services this summer

Inspired by Executive Director, Laura Barron's trip to South Africa, last spring, we launched our inaugural program, Stick Together, a youth marimba band at the Burnaby Youth Custody Services, this summer, for both girls and boys. Met with great excitement and receptivity, master percussionists, Robin Layne and Chris Couto joined Laura to co-facilitate this 8-week summer pilot. We are grateful to Brittannia Community Centre for loaning us instruments for the summer. And we are now thrilled to pursue the possibility of the BYCS youth building their own marimba fleet, in the wood shop of their facility's accredited high school. This will give these youth participants valuable ownership in our program, and ensure the sustainability of our continued programming, scheduled to start again in early 2016.
I of C goes to the carnival!

new partnership between i of c &
the greenhorn youth carnival band
Instruments of Change is thrilled to be supporting the Vancouver Carnival Band's efforts to launch their own youth ensemble, called the Greenhorn Community Music Project, which will start rehearsals this September. Under our umbrella, they have successfully won a Vancouver Foundation grant to fund open weekly jam sessions, with instruction by members of the Carnival Band. This existing band has animated Vancouver streets for more than a decade. And this new, inclusive, community music initiative is perfectly aligned with our non-profit's vision. So, we are excited to give young people a chance to learn everything from tuba to banjo, and disco to samba in this super fun music-making opportunity.
Women Rock again!

groovin' grannies get down
Our new Carnegie Centre Women Rock band, comprised of mostly 70+ aged first-time rockers, nearly named themselves Groovin' Grannies. But in the truly cooperative spirit that they exhibited throughout their four-month collaboration, they agreed on Yao Guen Yue, which means Rock 'n Roll in Mandarin, (the language shared by half of their group), because these 40-75 year-old Indian, British, and Chinese Canadian women all loved the sound of the name. Then, on May 13th, for a room a smiling community members, these women courageously took the stage as lead singers, guitar, bass, drum and piano players, jamming out on everything from Deep Purple and REM, to Indonesian folk music and an original a cappela choral tune. Finally, in another demonstration of the "tuned-in" nature of this enthusiastic group of rock stars, they all arrived to the gig looking like true pros, in flashy, matching black and gold outfits, without planning a thing!
something collective hits the road

trash talk recycled brings together students from Canada, india and nepal

Our artist educators, Maggie Winston and Laura Barron just returned from an illuminating month in India and Nepal delivering their Trash Talk Recycled youth puppetry, theatre and music project to nearly 200 students from these countries. They led this same project for students at three South Vancouver schools, and now these youth from across the globe are sharing their experiences in our project, through a penpal exchange. You can read all about these artful adventures, in Asia and at home, on the following blog: http://www.somethingcollective.ca
You all did it again!

Thanks to everyone who made our benefit such a success

30 fantastic performers + Vancouver's coolest venue + a full house of enthusiastic guests + scrumptious eats = A winning formula to raise $46,000 for our charity! Our celebration of art started with personal poems written for select guests, by writer, Kevin Spenst (check out his piece about the #20 bus here). Magician, Travis Bernhardt beguiled folks with his slight of hand and humor. The youthful energy of the Tambai Marimba Band started our show with a bang. Liesa Norman and her chock-a-block-full-of-talent band, BeatThief, reminded us that we can all only "Do What We Can." Women Rock's own Firekeepers showed us why we are all commmitted to Instruments of Change in the first place. Karima Essa and the RPD Bhangra troupe let us all express ourselves (see photo at left). And Rumba Calzada sent us off in salsa style. Sincere thanks to everyone who attended, performed, or helped make this fabulous evening possible.
we're off to india & nepal this march

Something Collective brings "trash talk recycled" to asia
Instruments of Change artists Maggie Winston, puppeteer, and Laura Barron, musician and writer, spent this fall working with 3 South Vancouver schools who explored trash in their world and in their minds, through the creation of a narrative they staged in December, using puppets and instruments they made themselves from trash. And now, in March and April, Maggie and Laura will share their work with students in Ramana's Garden School in Rishikesh, India as well as Child Haven's Montessori school and orphange in Kathmandu. Throughout the process, these Asian and Canadian youth will communicate about their experiences, as penpals. Thanks to everyone who contributed to our IndieGogo campaign to make this journey and fascinating cross-cultutral collaboration possible. You can follow this project here:somethingcollective.ca
voice to voice takes the stage

ubc and downtown premiers schedule this april

Since September, Thursdays Writing Collective has been meeting weekly at the Carnegie Centre, creating texts about music and transformation. During this time they have established partnerships with 6 UBC composers who have spent the past few months creating classical art songs for voice and piano from 11 select poems by TWC writers. And now, excitingly, this year-long collaboration will culminate in two live performances that showcase these works and celebrate these artists. The debut concert will take place at the University of British Columbia School of Music (Gessler Hall, Rm. 116) at 8 pm, on Thursday, April 2nd. And the subsequent show will be hosted at the St James Church (303 E Cordova), at 8 pm on Thursday, April 16th. Both performances are free to the public. We also invite you to follow our project blog here: thursdayswritingcollective.ca
2015 Benefit Event Announced

Instruments of Change annual benefit event returns to the Imperial Theatre, Feb. 5th, 2015

It's that time again. Time to celebrate the great work that Instruments of Change is doing transforming lives through the arts. And we are going to do that the best way we know how. With an evening of music, dance, poetry, and magic. So, please mark your calendars for FEBRUARY 5th, to make sure that you can join us at the artful IMPERIAL THEATRE (319 Main St.) for this eclectic event. Also, because our Vancouver-based charity has begun to spread its wings beyond BC, to India and even to South Africa, we have created a benefit inspired by a theme of Global Change. So, while you enjoy scrumptious Pan-Asian food from Roaming Dragon.you will be treated to performances by the VanCity Bhangra Dancers, the Kutapira Marimba Band, Travis the Magician, Liesa Norman and Beatthief, as well as the Rumba Calzada salsa band.
To purchase your tickets, please visit: INSTRUMENTSOFCHANGEBENEFIT.EVENTBRITE.COM.
everyone deserves a voice

I of c launches writing and music workshop with downtown eastside writers and ubc composers

In September 2014, we will begin collaborating on a year-long project with the Thursdays Writing Collective and UBC musicians, to create original art song compositions based on texts by Downtown Eastside writers. The finished pieces will be performed in a formal concert next spring. And we will also publish a book of creative writing, Voice to Voice, that will include the musical scores.
But to make this all possible WE NEED YOUR HELP. Please contribute to our Indiegogo campaign by August 27th: https://www.indiegogo.com/projects/voice-to-voice-by-thursdays-writing-collective
Our Women Rock! participants on stage

The "Firekeeper and the wild mares" rocked the carnegie centre, May 7th, 2014

Women Rock's 12-week series at the Carnegie Centre ended with a celebration performance on May 7th. Our participants energetic new band, "Firekeeper and the Wild Mares" entertained 100 enthusiastic audience members with punk and rock cover tunes, blues improv and original songs. Check out highlights of their show here!: https://vimeo.com/103183834
In recognition of their talents and creativity, these fabulous women have also already been invited to perform at various Vancouver events, including the Heart of the City Festival, this October.
Finally, we are excited to continue programs at the Carnegie Centre and at the FVI women's prison this fall.
our director speaks at pecha kucha

instruments of change was invited to showcase our work at the Vogue Theatre
on June 4th, for 1,000 people

Because of the inspiring work we do, Instruments of Change Director, Laura Barron was invited to speak about our projects to over 1,000 people, on June 4th, at the Vogue Theatre. Watch her 6-minute Peach Kucha presentation here: https://vimeo.com/album/2947631/video/100334195
everyone needs more creative confidence

I of c launches arts-based professional development workshops for all

Recognizing the powerful transferable benefits of the interdisciplinary arts activities that we have successfully shared with at-risk youth, seniors, immigrants, and marginalized adults, Instruments of Change has customized a wide range of arts-based tools to serve the needs of business and educator clients. Our menu of offerings includes theatre, writing, music, visual art, and movement-based tools designed to improve communicatoin, leadership, listening, presentation, learning, collaboration, project planning, strategic thinking and problem-solving skills. Our versatile team of artist facilitators have vast experience working in corporate, small business, and school settings, and would love to work with you and your colleagues. Many recent publications, such as Creative Confidence, by the founders of IDEO (a service design-based consulting firm in San Francisco) are lauding the benefits of arts integration in professional settings.
We invite you to visit: http://instrumentsofchange.org/tools.html for more information. Please contact laura@laurabarron.net to book a tailor-made, half or full-day workshop for your team!
onward and upward for I of C in 2014

our imperial benefit sure shined a lot of light!

Instruments of Change is thrilled with the huge success of our October 30th benefit, which raised $50,000 for our organization!!. Our generous and enthusiaistic audience was treated to an artful evening of performances by Liesa Norman, Shaun Verreault, Evann Siebel, Mind of a Snail, RC Weslowski and Natalie Gan & Co., and delicious catering by Roaming Dragon. Attendees even chimed in with their own rendition of "I'd like to Teach the world to Sing" on the bottle flutes. And, as this Halloween Eve event was inspired by a "shape shifting" theme, it seems only appropriate that we will see enormous growth in 2014, given this financial boost which will allow us to reach so many more communities with our arts programs. Thank you to everyone who turned up and made this a fabulous event.
INSTRUMENTS OF CHANGE THIRD ANNUAL BENEFIT

OCT. 30TH, 6:30-9:30 PM, THE IMPERIAL, 319 MAIN ST., VANCOUVER
The Third Annual Instruments of Change Benefit will take place at The Imperial (formerly District 319, at 319 Main St), on October 30th, from 6:30-9:30 pm. Featured performers include Shaun Verreault from Wide Mouth Mason, Liesa Norman and BeatThief, Mind of a Snail shadow puppeteers, Canadian Slam Poetry Champion RC Weslowski, and Kraftstein, with a film by Evann Siebens, and choreography by Natalie Gan and Company. A feast for all the senses, this TD Bank sponsored evening also includes pan-Asian catering by Roaming Dragon and Okanagan wines from Foxtrot Vineyards. This interdisciplinary arts showcase plays with the theme of shape shifting, in the spirit of Halloween and the transformative nature of Instruments of Change's community art programs. Tickets $75, available at: instrumentsofchange.org/eventbrite.ca

A TD Bank Sponsored Event
We Are Here community mapping project celebration,
may 18th, 1- 3 pm, sunset community centre
Something Collective members have completed the soundscape, dance, puppetry, moss art, and video componsents of their multi-sensory community mapping project, which they faciliated with youth, seniors, immigrants, and pre-school students from the Sunset Community over this past year.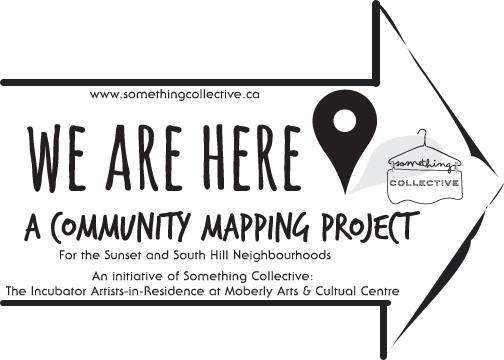 Instruments of Change artists, Something Collective, also Artists-in-Residence at SCC, have worked and played with community members in a variety of arts activities that map the sounds, people, growth, play spaces, and movements of the Sunset
Neighbourhood.
We Are Here has allowed community members to explore their neighborhood with all five of their senses.
Now, together, with your friends and neighbours, we'll get to walk through a giant interactive map as we celebrate all the finished components of the project.
Come and experience an interactive, living picture of the Sunset neighbourhood.

JOIN US FOR DANCE AND PUPPET PERFORMANCES, FILM AND
SOUNDSCAPE INSTALLATIONS, AS WELL AS FREE REFRESHMENTS!

This project is supported in partnership by the City of Vancouver, the Mobelry Arts and Cultural Centre, and th Sunset Community Centre.
ALPHABET STORIES SET TO LAUNCH AT SOUTH HILL LIBRARY IN EARLY FEBRUARY 2013
Something Collective members, Juliana Bedoya and Laura Barron, are soon to install the artistic results from their Alphabet Stories community engagements, which they led at the South Hill Library from Sept.-Dec. 2012.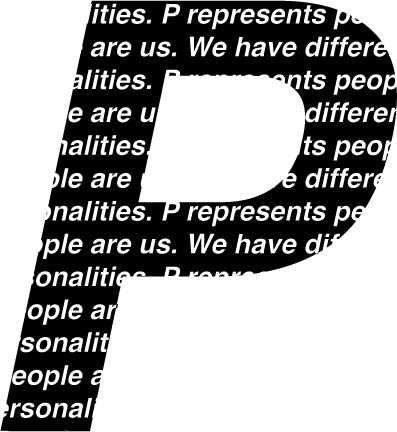 Through the Alphabet Stories project, Juliana and Laura asked South Hill residents how they wanted to dress the walls of their library to reflect the language of their community. Consquently, Punjabi students from the Khalsa school, as well as adults from the ESL and Book Club groups at the South Hill Library, created an array of text and art pieces which will be rendered as vinyl art that will live on the library walls. The final content has become an abecediary (alphabetized list) which includes concrete poems, odes to alphabetic letters, and alliterative pieces from the many alphabets present in the South HIll neighborhood. Appropriately, the Chinese, Japanese, Vietnamese, Punjabi, Cyrillic, and Roman alphabets are represented in this project.
Juliana and Laura also used a variety of movement-based exercises as faciltative tools. The photo below illustrates Khalsa school students with the word "spice", in Punjabi letters, tattoed on their palms, (using temporary markers), to summarize what this project means to the Sunset community.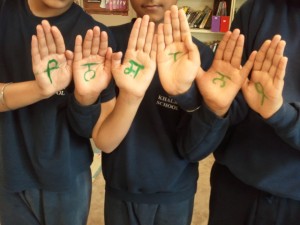 ART FOR IMPACT benefit event, saturday december 82012, 7:30 pm
Instruments of Change will be the fortunate beneficiary of Art for Impact's 9th fundraising showcase of interdisicplinary performances.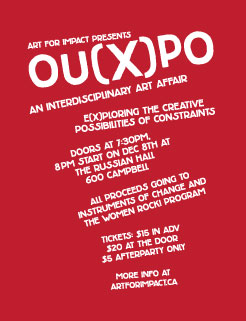 Art for Impact is pleased to present our ninth event: Ou(x)po
Saturday, December 8, 2012 - 7:30pm
The Russian Hall, 600 Campbell Ave, Vancouver
Get tickets now! http://inci.pe/ouxpo
Join us for our 9th event, Ou(x)po, exploring the possibilities found within creative constraints.
All proceeds are going to Instruments of Change and their Women Rock! program, a 12-week project for women in the BC prison system to gain self-empowerment through learning to play rock instruments, forming bands, managing gear and writing songs.
Ou(x)po invites guests to roam the building and enjoy the many pieces (ranging from classical music and dance to shadow puppetry, clown, film and beyond), all going on in unconventional locations.
Doors open at 7:30 (featuring an art auction and a pre-show by musician Angie Inglis), show starts at 8! There will be drinks available for purchase, and this year we're featuring an afterparty (10pm-midnight) featuring the awesome band Miss You in Tuques, and a raffle draw.
A limited number of advance tickets are available at $15, with general admission $20, and all proceeds supporting Instruments of Change.
something collective celebrates the completion of our footprint

Join us at Renfrew Community Centre, from 1-3:30 pm, Saturday, November 17th, to experience the culmination of our community mapping project.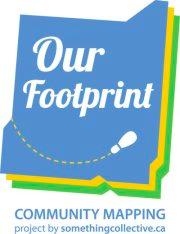 Enjoy dance and puppet performances, film and soundscape installations. Make your own moss art, and eat our celebration cake, too!
Something Collective, the Artists-in-Residence team, has worked and played over the last few months engaging community members in a variety of arts activities that map the sounds, people, growth, play spaces, and movement of the Renfrew/Collingwood Neighborhood.
"Our Footprint" has allowed community members to explore the Renfrew community in a whole new way. They have joined with each artist of Something Collective and explored their neighbourhood through dance, sound, video, green graffiti, puppets and photography.
Together, with your friends and neighbours, we'll get to walk through a giant interactive map as we celebrate all the finished components of the project. Come and experience a living picture of Renfrew neighborhood.

Visit: http://ourfootprintrenfrew.somethingcollective.ca/map-real/ to browse our digital interactive online map.
Yoga benefit event, Tuesday August 28th 2012, 7-9 pm
Instruments of Change will host a Yoga benefit event at the Sarah McLachlan School of Music, on August 28th, from 7-9 pm, 200-138 E 7th Ave.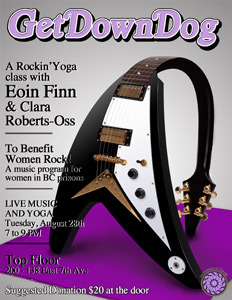 This rockin' routine will be led by Eoin Finn and Clara Roberts-Oss, two of Vancouver's most loved teachers.
The event will also feature live music and promises to be a wild time! Suggested donation is $20 at the door and all the proceeds will go towards our Women Rock! program which brings music education to incarcerated women in BC. If you want to learn more what this program means to the women who participate, please listen to this clip of a radio documentary from our highly successful 2012 pilot program.
Waldorf Rock Lottery, Jan. 29th 2012, 8 pm
Girls Rock Camp and Instruments of Change joined forces to produce the Waldorf's very first Rock Lottery, on Sunday, January 29th at 8 pm.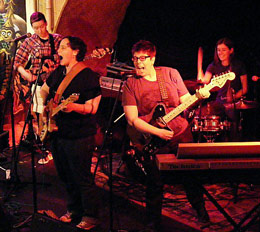 We mashed-up-up twenty of Vancouver's hottest musicians into five completely new bands, and then gave them only 24 hours to create an original 15-minute set for the show. It was a little wild, a little loud and a lot of fun! The show featured the looping magic of The Cruz Brothers; performance maven prophecy Sun and Fellow Tyranahorse member, Darren Fleet; the ubiquitous Chris-a-riffic on the keys; rapper Rup Sidhu; the sultry pipes of Dominique Fricot; guitarist/singer/songwriter, Jenny Ritter of the recently parted band, The Griffs, and more.
This awesome event raised the necessary funds for our Women Rock! program which we launched in March, at a BC women's prison. This 3-month pilot program will teach women, with little to no musical experience, how to play durms, keys, guitar, and bass. They will also develop song writing skills and the program will conclude with a Showcase on June 7th in which the women will jam out to their own original songs.
Community Mapping Projects at Sunset and Renfrew Community Centres
In 2012, Something Collective's primary community engagement in the Sunset neighborhood will be the development of a community-mapping project. We Are Here, will interact with the public using a a multitude of artistic mediums to "draw out narratives of why residents value their neighbourhood and how they want it to grow and change" (cityecology.net). Something Collective wants to hear from the Sunset community as they secure participants for their project. The artists at Something Collective can be reached at somethingcollective.ca where more information is posted about their other projects and planned activities.

Something Collective has also received $12,000 from Vancouver's Artists in Communities program, to pursue another interdisciplinary, community-mapping project with neighbors of the Renfrew Community Centre. In Our Footprint, Something Collective will use audio, visual, choreographic and environmental mediums, to facilitate a process that will enable the Renfrew community to track how they interact with their environment, using all five of their senses.
Captain Creative premiere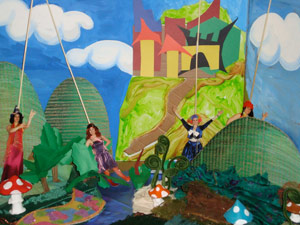 Finally, after a vibrant celebration of Something Collective's Incubator Residency at Moberly, on Nov. 20th, these artists presented their second open studio on April 27th.
This involved sharing their interactive performance piece, Captain Creative, with students from Sunset schools. This arts advocacy fairy tale uses dance, music, film, puppetry and print making to demonstrate the value of art in our society. Keep checking somethingcollective.ca for more information.
Art for Social Change Film Festival at VanCity Theatre, June 11-15, 2012
Instruments of Change, in partnership with VanCity Theatre and the Vancouver International Song Institute, co-produced Arts of Conscience, an Arts for Social Change Film and Speaker Series, from June 11-15, 2012. The second annual symposium will take place in June 2013.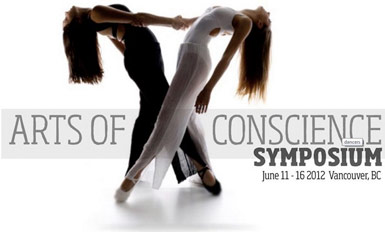 © 2012 INSTRUMENTS OF CHANGE