Something Collective
This team of professional artists and activists have joined forces because they realize that they share the necessary aspiration, vision and creative skill set to effect social change through their art.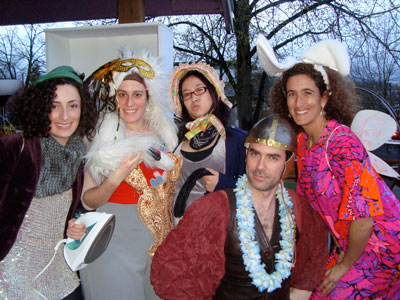 This like-minded group includes Natalie Gan (dance), Maggie Winston (puppetry, theatre), Juliana Bedoya (sculpture, performance installation), Laura Barron (flutist, writer) and Flick Harrison (media arts). Their interdisciplinary community art projects have reached at-risk youth, seniors, and immigrants. Projects have included artistic mapping initiatives with the Sunset and Renfrew neighborhoods; a visual art and text installation, Alphabet Stories, for the SouthHill Library; and Reflective Voices, a music, dance, and poetry performance with Richmond students, that celebrates diveristy. In 2011, they were selected for a two-year Incubator Residency, serving the Moberly Arts and Cultural Centre, as well as the Sunset Community Centre & Ice Rink.This exciting opportunity provided them a shared studio space at MACC, from which they were able to pursue their individual art practices while developing a variety of future projects that served the Sunset community. These artists intially met when they were mutually drawn to Judith Marcuse's 2010 professional development course Exploring Arts for Social Change at SFU. Since then, their continued artistic collaborations have addressed issues of homelessness, gentrification, sustainability and consumerism.
Click here to learn more about Something Collective's vibrant array of activities.